SIDERAL
2016
Gilberto Esparza y Marcela Armas en colaboración con Daniel Llermaly y el Instituto de Astronomía de la UNAM.
—
SIDERAL una serie de articulaciones sonoras que proceden de la lectura e interpretación del campo magnético local modificado en la superficie de meteoritos caídos en diversas partes de la Tierra.
La serie se inaugura con un meteorito metálico de 3.3 toneladas llamado La Concepción o Adargas que fue transportado de la Sierra de Adargas en Jiménez, Chihuahua el 29 de abril de 1780 hacia la cercana Hacienda de La Concepción. El Instituto de Astronomía de la UNAM tiene su custodia desde 1976. Después de 40 años, este meteorito es removido del vestíbulo del Instituto, para ser trasladado temporalmente a la Capilla del Señor de Santa Teresa en el Museo Ex Teresa Arte Actual en Ciudad de México.
Construimos el primer prototipo de un instrumento que tiene un conjunto de brazos mecánicos provistos con sensores, para obtener señales del campo magnético registrado en la superficie de los meteoritos. Estas señales son interpretadas en tiempo real como una construcción sonora que toma como referencia ciertos sonidos del lugar donde el meteorito impactó: voces de sintetizador que refieren a los sonidos percutivos de rituales rarámuris, se unen a sutiles expresiones inspiradas en el paisaje sonoro de la Sierra de Adargas en Jimenez, Chihuahua.
La segunda lectura de SIDERAL, se realizó con un meteorito de 283.5 kg caído en el Meteor Crater en Arizona y que está actualmente alojado en el Observatorio Archenhold en la Ciudad de Berlín, Alemania.
—
This is a series of sound articulations that come from reading and interpretation of local magnetic field at the meteorites surface fallen in several parts of Earth.
The series begins with a meteorite called La Conception – Adargas, a metallic meteorite of 3.3 tons was transported from the mountain range of the State of Chihuahua in Mexico on April 29, 1780 to the nearby Hacienda La Conception. The Institute of Astronomy at National University of Mexico –UNAM- has sheltered it since 1976. This meteorite will be placed under the dome of the Chapel of the Lord of Santa Teresa in the museum Ex Teresa Arte Actual in Mexico City.
We built the first prototype of an instrument that performs readings of the local magnetic field intensities of the surface of this meteorite.
Inspired by the sound from the place where each meteorite impacted, we create synthesized sounds that are displayed by the collected data from these readings. In the case of La Conception – Adargas, these sound sources are based on some percussion rituals of rarámuri people living in the region, and subtle events of the soundscape of the mountain range in Chihuahua.
During the second realization, was examined a 283.5 kilograms iron meteorite taken from a meteor crater in Arizona, and today housed in the Archenhold Observatory in Berlin –Treptow.
—
Museo Ex Teresa Arte Actual – August 26th – October 23th, 2016.
Kunstraum Kreuzberg, Berlin – November 25th, 2016 – January, 2017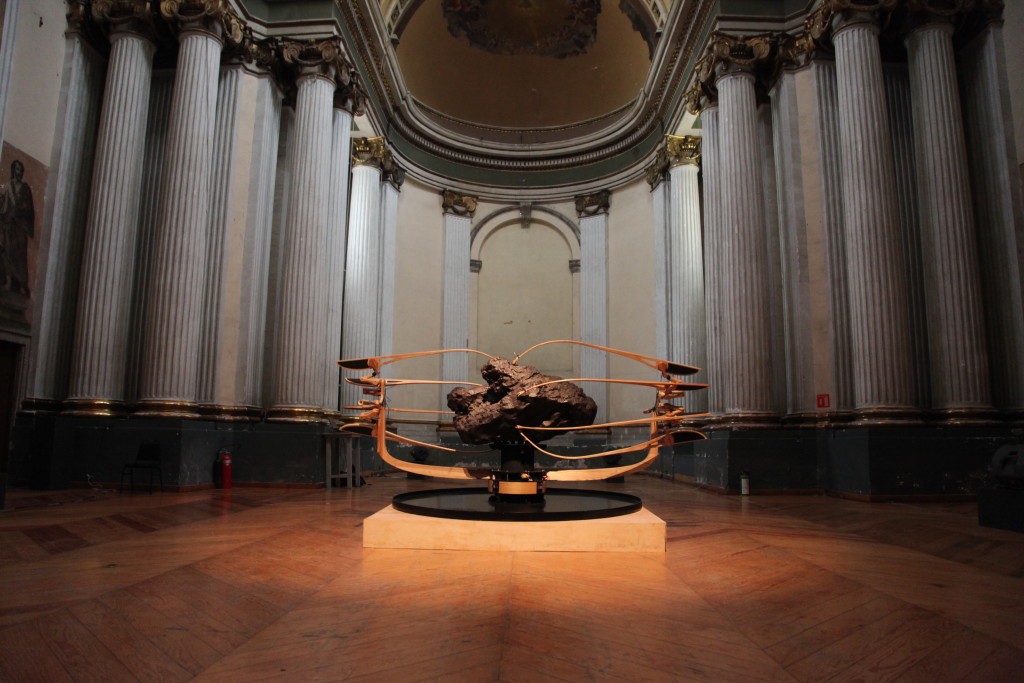 Photography by Gilberto Esparza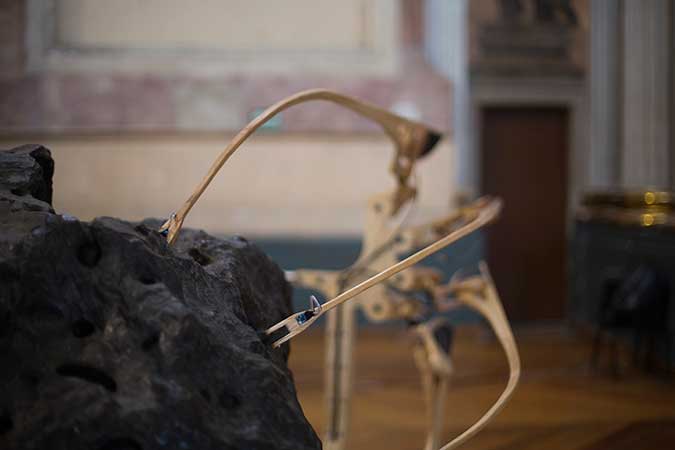 Photography by Gudinni Cortina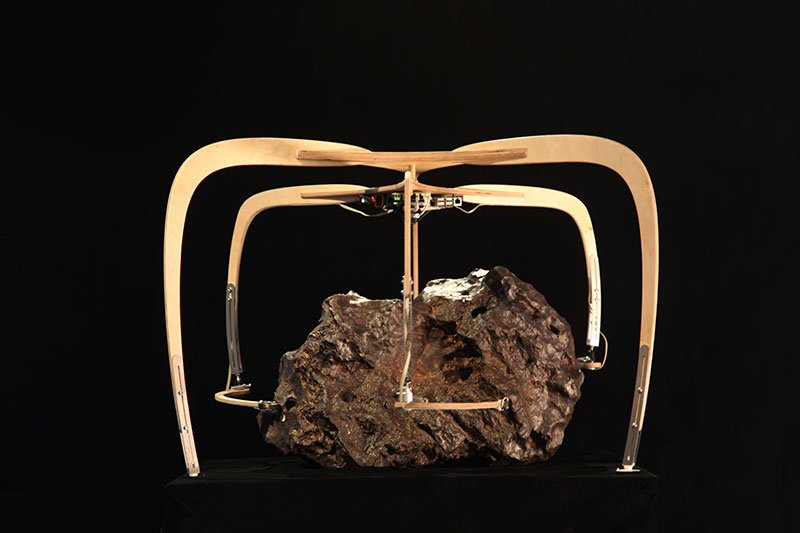 Meteorite at Archenhold Observatory, Berlin.
Créditos:
Marcela Armas y Gilberto Esparza
En colaboración con Daniel Llermaly en la composición sonora / Instituto de Astronomía y Dirección General de Divulgación de la Ciencia de la UNAM.
Daniel Flores – Instituto de Astronomía UNAM
Jaime Urrutia – Instituto de Geofísica UNAM
En el marco de la exhibición Entre Límites, Zwischen Grenzen. Espacios Sonoros en México y Alemania / Klangraüme in Mexiko und Deutshland.
Carsten Seiffarth, curador.
Diego Liedo Lavaniegos – productor
Taiyo Miyake, Bruno Monsiváis, Carlos Chinchillas Terrazas – producción
Salvador Chávez – programación
Agradecemos a: Turi Banhí, Rodrigo Escobedo Baena, Tito Rivas, Emilio Converso, Pedro Ortiz Antoráz, Iván Edeza, Julián Monroy, Santiago Itzcóatl
Ex Teresa Arte Actual – INBA / Goethe-Institut Mexiko / Instituto de Astronomía – UNAM / Kunstraum Kreuzberg, Berlin
GIROTRONIC
2008
GILMAR
Marcela Armas + Gilberto Esparza
Girotronic is a sound live act performed with four turntables modified with analog electronics: switches, light sensors, audio oscillators, voltage variations, radios, contact microphones. The play is based on the design and construction of electronic records such as copper and acrylic unique pieces that are performed under a principle of free improvisation within a temporal structure of 33 rpm. Each disk has specific qualities that define its nature sound, from drawings, maps, texts that function as voltage transmission lines.
This is a sound experience that corresponds to the inmediate physical action: the electric power manipulated by light, vibration and disruption.
Girotronic es un acto sonoro en vivo realizado con cuatro tornamesas modificadas con electrónica análoga: interruptores, sensores de luz, osciladores de audio, variaciones de voltaje, radios intervenidos, micrófonos de contacto. La obra se basa en el diseño y la construcción de discos electrónicos de cobre y acrílico como piezas únicas que son interpretadas bajo un principio de improvisación libre dentro de una estructura temporal de 33 rpm. Cada disco tiene cualidades específicas que definen su naturaleza sonora, a partir de dibujos, mapas, textos que funcionan como líneas de transmisión de voltaje.
Se trata de una experiencia sonora que corresponde a la acción física inmediata: la corriente eléctrica manipulada a través de luz, vibraciones e interrupciones.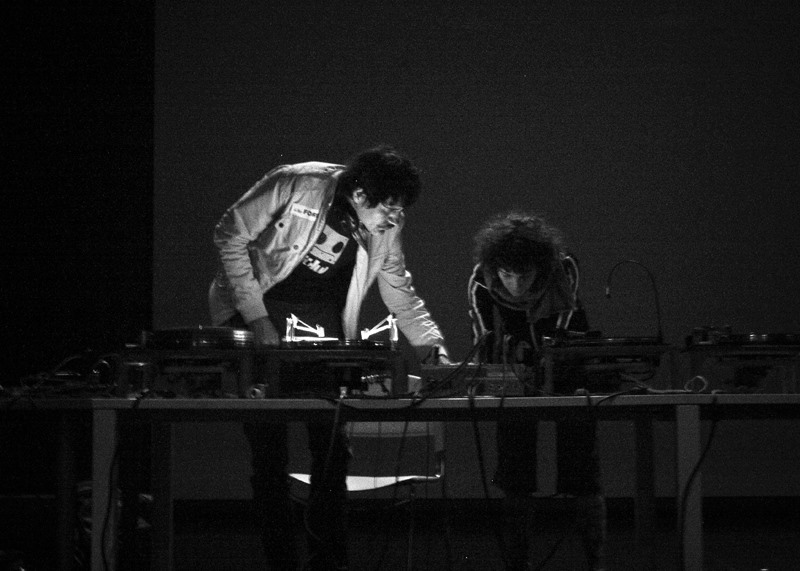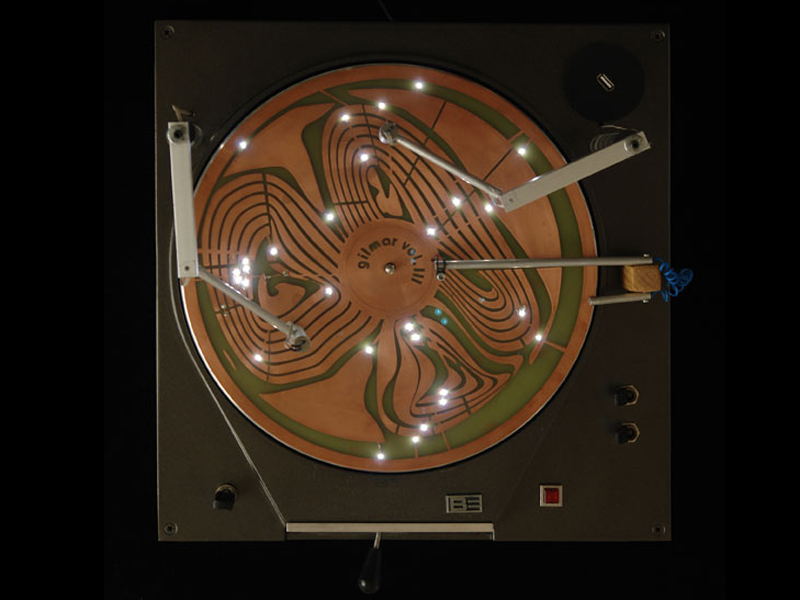 BREATH
Gilmar, 2010